A Gale is Defined as "a very strong wind" "a noisy outburst"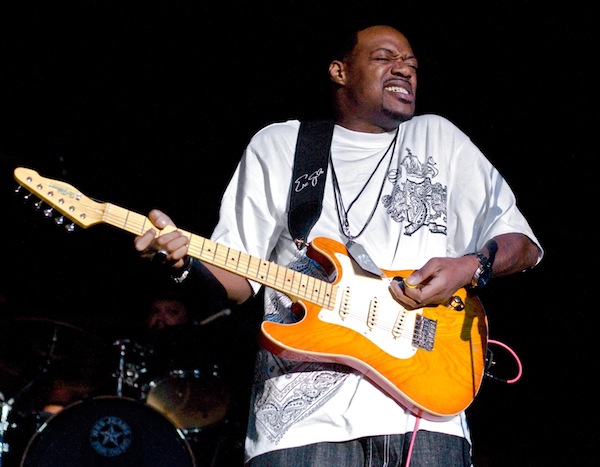 You can define Eric Gales as a force of nature all his own, a tsunami in the world of guitarists. The storms he encountered and conquered in his personal life have added a dimension to his writing. He is as unpredictable musically as the wind he rides, but every time he walks on stage is a moment to remember. Music erupts from his soul red hot, much like the lava now erupting from Mount Agung. Once it starts, hold on!
If you don't recognize his name, I recommend you hit the 'Tube and surf the tunnel to check out his videos and live performances, then buy every CD he has ever recorded. You will thank me, send me flowers, throw gold coins when I pass you in gratitude. Eric Gales has recorded 18 albums with his name emblazoned on the front and has contributed to well over that on tribute projects. Oh, and he is one of the most well-respected guitarist in the industry. And truly one of the nicest. Joe Bonamassa calls him "one of the best, if not the best guitar player in the world". Carlos Santana says Gales is "absolutely incredible". Mark Tremonti says Eric "could be the best player on Earth" and Dave Navarro states what I think "How Eric Gales Band isn't the hugest name in rock history is a mystery".
Eric Gales' latest album, released earlier this year Middle of the Road is a slight detour from what you may have come to expect from him. That strong rhythmic "thump" is more than just bass, it is melody, mood and all Eric.
This album is personal. I asked Eric about the change of pace on Middle of the Road. "Its different styles and things I like...reflects what I've been through in life, how my life has transformed. I'm very pleased with where I am in my heart."
Track for track, Middle of the Road is a walk in Eric's shoes. It begins with "Good Time" and funky fun tune that can almost be called "rollicking". I had it playing in the background when a friend called and said "Who IS that!" (I love turning people on to great music and musicians...you have a new fan Eric) Next up is "Change in Me (The Rebirth)". "I got tired of doin' bad, now I'm doin good" reflects his approach to life. If you want some great funky guitar work, "Carry Yourself" is your song. Then there's "Boogie Man" the Freddy King classic with a some help from the incredible Gary Clark Jr ("great song,worked up some cool stuff"). "Been So Long" talks about having been through difficult times, and the positive reggae vibe is pretty special. It's followed by "Help Yourself". I love this song and young Christone "Kingfish" Ingram plays on the track. ("proud of him, he's really blossoming as a player"). The raw moments expressed in "I've Been Deceived" are real. His lyrics are much like his advice to young players, "keep your eyes open. Pay attention. Don't let yourself be sidetracked". Eric pulls no punches here. Then we are treated to "Repetition" where Eric is joined by his brother Eugene, who rips it wide open. "Help Me Let Go" is quite beautiful, and very much a prayer for salvation. He picks up the mood with the funky "I Don't Know" and then gives us something to stomp to with a slappin' bass line and swampy feel...oh yeah, its it's an instrumental perfectly coined "Swamp". This is a fantastic album to throw into your CD player when you hit the road. The tracking is perfect.
Although Eric is not left-handed, his brother Eugene is, and he taught Eric to play left-handed, which is to play the right hand guitar upside down, with the E string on the bottom. Eric said it always "felt right". It still amazes me when I see him. The references to Hendrix are understandable, but Eric Gales is distinctly his own man.

My radio daze allowed me to interview Eric and Eugene the first time in 1993. They were signed to Elektra Records, touring to support "Picture of a Thousand Faces". He was a fresh faced kid, still in his teens and this was already his second album with the label since he was 16. I remember how remarkable a talent he was then, displaying a maturity, talent and confidence on stage that belied his age.
He's matured more than a little since that time, and I freely admit I am a fan. He puts 100% into a show and I've seen many of his performances over the last 24 years, including several at the Double Door Inn. He has never held back on stage: he rules it.

Charlotte is in for a treat this Friday December 1 as Eric Gales returns to town to kick off December in fine form. He'll be hitting the stage at Neighborhood Theatre after extensive touring this year in Europe, His tour schedule is already rapidly filling up for 2018, but he is planning a special show January 20th 2018 in Memphis with his brother Eugene. The Gales Brothers will be together again and in Eric's words "it's going to be ridiculous!" If you are at the IBC, stay Saturday night and catch the show. One for this history books.
As we were finishing up our call, I wanted to ask him a simple question: If you could jam with anyone, living or dead, who would it be. He didn't miss a beat "Stevie Ray Vaughan & Jaco Pastorius it would be ridiculous".
Eric Gales. You Gotta love this guy! See you at his next show!